THINK BIG. START SMALL. ACT NOW!
SAVING TODAY FOR FINANCIAL INDEPENDENCE TOMORROW
---
Retirement may be a long way off, or maybe it's just around the corner. Have you thought about how much money you will have when you retire? Will this be enough to maintain your standard of living and allow you to enjoy the things you have been looking forward to doing when you retire?
Fortunately, by making regular contributions to the Woolworths Group Retirement Fund, you have already laid the foundation for your retirement planning. Your retirement fund is an appropriate vehicle for building up wealth over your working lifetime to provide you and your family with an income once you have retired.
REMEMBER:

Retirement age is now 63.
---
---
Compound Interest:
Take a long-term view on saving for retirement and be smart. The genius is that compound interest will give your saving efforts a leg up over time.
The message is clear: start early, start small and stick to the plan.
NOTE: This hypothetical example is for illustrative purposes only and is not intended to imply or represent a specific return on any particular investment.
---
Financial Wellness
---
---
READ NOW
---
---
Newsletters
---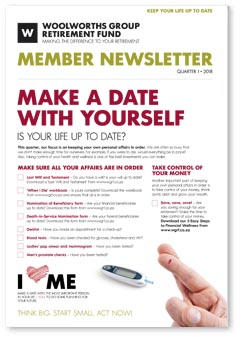 ---
READ NOW
---
---
Forms
---
---
VIEW ALL FORMS
---