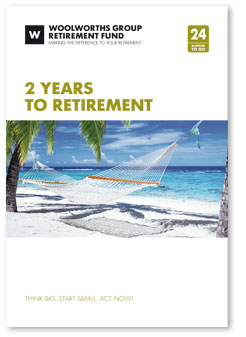 2 Years to Retirement Workbook
At Woolworths, the compulsory retirement age is 63. It is ideal to work and save right up to your retirement day to ensure that you have enough money to live on when you retire.
Although you still have two years to your retirement, a lot of planning and preparation needs to take place between now and then, to ensure that you have a smooth and hassle-free retirement.
An A-Z of your Retirement Benefits
This A-Z recaps your benefits and provides you with some of the information you will need to make a smooth transition from employee to retiree.
Retirement should be the most enjoyable part of your life, so remember to lead a balanced lifestyle.